Eyelash Extensions Green
Colored Eyelash Extensions  for professional stylists. Mini box of 5 rows.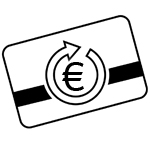 Colored Eyelash Extensions in rich green color.
Curl: C, D.
thickness: 0,07 mm 0,10 mm 0,15 mm 0,20 mm.
Length: 5 numbered rows 
Mix Box: from 9 to 13 mm
With colored eyelash extensions you can give life to new and creative looks, or notably highlight the natural color of eyes of your customer.
Specific References
ean13

4276277895694